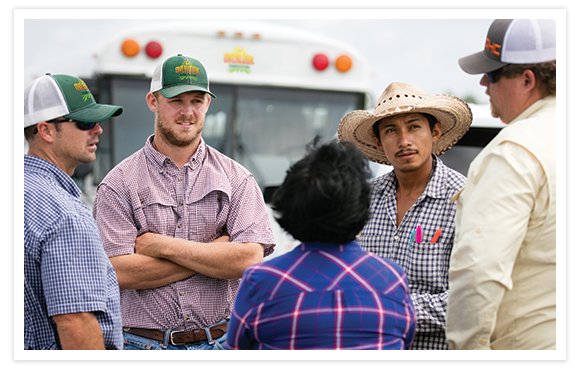 Family-owned and operated from the start, Overlook Harvesting was founded in 2006 to address the agricultural labor needs of the Central Florida citrus industry. An early adopter of the H-2A temporary guest worker program, we specialize in providing growers with dependable harvesting labor solutions. Over the years, our reputation for professionalism and reliability has helped our company grow and allowed us to expand our service offerings beyond the citrus grove. Today, we harvest many different crops with the same exceptional-quality service we've delivered since the beginning.
The Overlook Harvesting Advantage
What Our Customers Are Saying
"
As a grower, I highly recommend Overlook Harvesting, for all your harvesting needs. Overlook has harvested all my vegetables for the past two seasons in a timely and professional manner. Their company has the resources and capabilities to meet all your harvesting needs, when you need them.
"
Scott Henderson Henderson Farms
"
I have used Overlook Harvesting to harvest my blueberry crop for the last 3 seasons and have been very satisfied with their service. Overlook has provided me with a professional, dependable, and quality focused workforce. I would recommend Overlook Harvesting to other growers with harvesting needs.
"
Justin Pettit Blue Hammock Farms, Production Manager
"
Overlook Harvesting has harvested my family citrus farms since their inception in 2006. Not only have they provided me with a quality service, but have always harvested my crops in a timely fashion. Overlook has a dependable workforce with a focus on quality as well. I have known the Bentley family for many years and I know that my fruit will be harvested honestly and professionally. I would recommend Overlook Harvesting to handle any of your harvesting needs.
"
Jeff Stokes Stokes Groves, Inc.
"
I have engaged the services of Overlook Harvesting Company for harvesting my family's citrus crops since 2006 and have been very pleased with the service they have provided. Overlook Harvesting was one of the first citrus harvesters in my area to utilize the H-2A program. Overlook has gained substantial knowledge and experience with the H-2A program which serves to provide a stable and legal workforce in order to assure timely and dependable harvest of our fruit. I have known the Bentley family for many years and have observed throughout those years their values and integrity that provides a grower with the confidence that his fruit will be handled accurately and honorably.
"
Squire Smith
"
The long held tradition of integrity and great customer service provided by the Bentley's of Overlook Harvesting continues to make me feel secure when they are harvesting our fruit.
"
Bill Sheffield TMS Groves