Consistency You Can Count On
Overlook Harvesting Company offers agricultural harvesting labor to growers and agribusinesses. Overlook provides its customers with a legal and dependable workforce by utilizing the H2A temporary guestworker program. Overlook offers a turnkey service to our customers.
Handling all of the requirements of the H2A program

Recruiting qualified workers

Providing housing to H2A workers

Providing bus transportation from worker housing to farm locations

Performing all payroll services

Providing worker's compensation and liability insurance on all vehicles

Providing professional field management
From asparagus to watermelons, our experienced team is equipped to handle almost any type of produce you can imagine. Call or email us today to further discuss your operation's harvesting needs.
The H-2A program allow U.S. employers who meet specific regulatory requirements to bring foreign nationals to the United States to fill temporary agricultural jobs. In order to qualify for the program, a U.S. employer must file a Form-1-129 with the U.S. Department of Labor. To qualify for the H-2A program, the petitioner must:
Offer a job that is temporary or seasonal

Demonstrate that there are not enough U.S. workers who are able, willing, qualified, and 

available to do temporary work.
Show that employing H-2A workers will not adversely affect the wages and working conditions 

of similarly employed U.S. workers.
Get the petition approved by the U.S. Department of Labor and USCIS, Department of Homeland Security.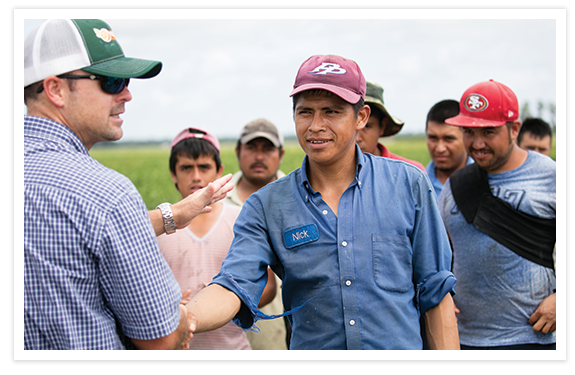 Getting Started With Overlook Harvesting
Filing a petition through the H-2A program is a very time-consuming process. H-2A petitions must be filed and sent off 75 days prior to the anticipated date of need. There is also a significant amount of preparation that needs to be done prior to filing an H-2A petition. This includes determining how many workers are needed, locating suitable H-2A housing, obtaining a labor bond, and finalizing the necessary language to be included in the H2A petition, just to name a few.
Please keep all of the above mentioned H-2A time requirements in mind when planning for your upcoming labor needs. To further discuss a customized harvesting plan for your farm, contact us today.